Weiss AFI1 FireWire Interface
26. März 2020

Weiss DAC2 D/A Wandler
6. April 2020
SADiE6.1 Software Update
350,00 €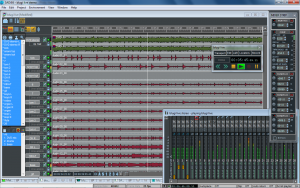 SADiE6.1 Software Update
Software Update von SADiE Version 6.0 auf SADiE Version 6.1. Die Software Version 6.1 bietet neben dem WAV.Mastering nun auch Direct Monitoring für Native Hardware und ermöglicht so das nahezu latenzfreie Arbeiten mit nahezu allen Audio Interfaces wie den Prism Lyra, Titan und Atlas.
SADiE6.1 Key Features:
WAV-Mastering
Direct Monitoring
ASIO Timecode Synchronisation
Pack Feature Table:
Option
SADiE 6
Pro
Radio
Producer
Post
Suite
Mastering
Suite
Sound
Suite
Playlist Editor
Trim Editor
Region Editor
3-4 Point Editor
Speech Editor
VST™ Plugin Support
Direct-X™ Plugin Support
MP3 Import/Export
CD Ripping
Playlist Automation Edit
Text EDL Print
Software Video tools (AVI)
Quicktime™ Video Support
Auto-Conform (and Re-Link)
AES31 File Interchange
SADiE 5.6 File Interchange
M/S Phase
Surround
9-Pin Master Support
9-Pin Slave Support
PQ Editor
PQ List Printing
DDPi Creation/Import
WAV Master
CD Text
Mastering Limiter
Graphical Parametric Eq.
Multi-Session CD Burning
CD SRC (Real time Sample Rate Convert)
Hi Dither (Noise Shaping)
Prism Sound SNS Noise Shaping
Technical Support Plugin
iZotope Plugin Pack Lite
iZotope Plugin Pack
VCS Integration
CEDAR plugins
OMF Interchange Plugin
AAF Interchange Plugin
Key:
indicates feature is included or supported,
indicates that the feature is available as an option at additional cost.